My creative objectives for this small business rebrand were to modernize the brand while keeping the playful art deco elements. In addition, I wanted to create a logo and visual feel that would stand out from other coffee shops in the San Marcos area.
Logo:

The sleek line work that frames the constellation allowed for a little flair while the modern Mr. Eaves logotype balanced the decorative elements of the logomark.
Color Palette:
Colors were pulled straight from NASA imagery, making sure to pick a dark base blue and a gold color.

Pattern Palette:
The pattern palette was created to balance out themes for different brand touchpoints. If something needs a more contemporary feel, add the shooting star pattern or the planetary pattern . If a touchpoint needs a more substantial art deco
presence, add the shell pattern. These patterns came in handy for the packaging design and the web site.


Type Palette:
Headline: Quicksand Bold
Subhead: Mr. Eaves OT XL Bold
Body: Mr. Eaves OT XL Regular


The headline type, Quicksand Bold, was chosen to mimic the line quality of the logo. Mr. Eaves XL has similar letterforms to the typefaces used in silent movie intertitles. The large x-height enhance readability and made a historical reference look contemporary.
Illustrations:
The illustration style uses gradient shading and large, simple shapes to create the images. A grainy texture made the illustrations unexpectedly dreamy instead of worn, which fit the brand personality.
Packaging
In my initial interviews with baristas that worked at Stellar, a great emphasis was put on the value of technical expertise. Packaging for their Toddy cold brew concentrate, tea blends and ground coffee highlighted the commitment to craft that Stellar Café staff was so proud of.
Signboard Menu
The infographic illustrations highlight the unique red espresso drinks the café was known for.

Web
The landing page for the website prioritized the hours open, social media links and featured an illustrated navigation menu for the specialized drinks on offer, divided into "Iced Toddy", "Espresso" and "Mochas." The intended effect was to remind seasoned patrons of the hours without scrolling and clicking through menus, and for new patrons to explore and build excitement for the drinks menu.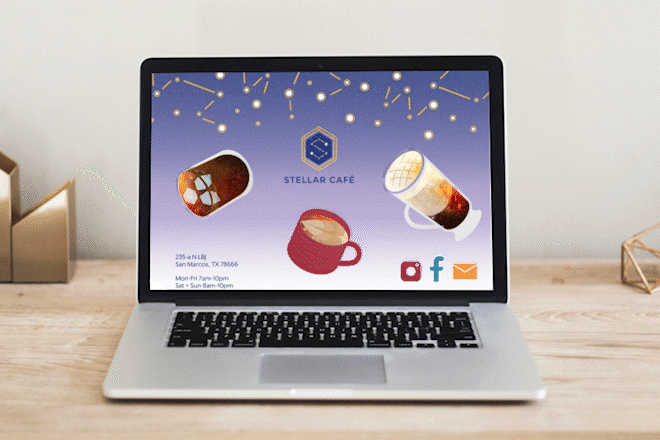 This project has a storied history and withstood challenges both creative and personal. I have written about this journey in more detail
here.
APALA End of Year Report 2019
Freelance Client : Asian Pacific American Labor Alliance


APALA asked me to design their 2019 End of Year repor. I focused on the readability of the text content and showcasing the powerful photography that was provided to me. White space was used for rhythm, to ease the amount of text. The report is available as an interactive PDF online on APALA's website, as well as print copies on request.
Click here for the full document online.